2022 6th International Conference on E-Business and Business Engineering | October 14-16, 2022 | Singapore (Online)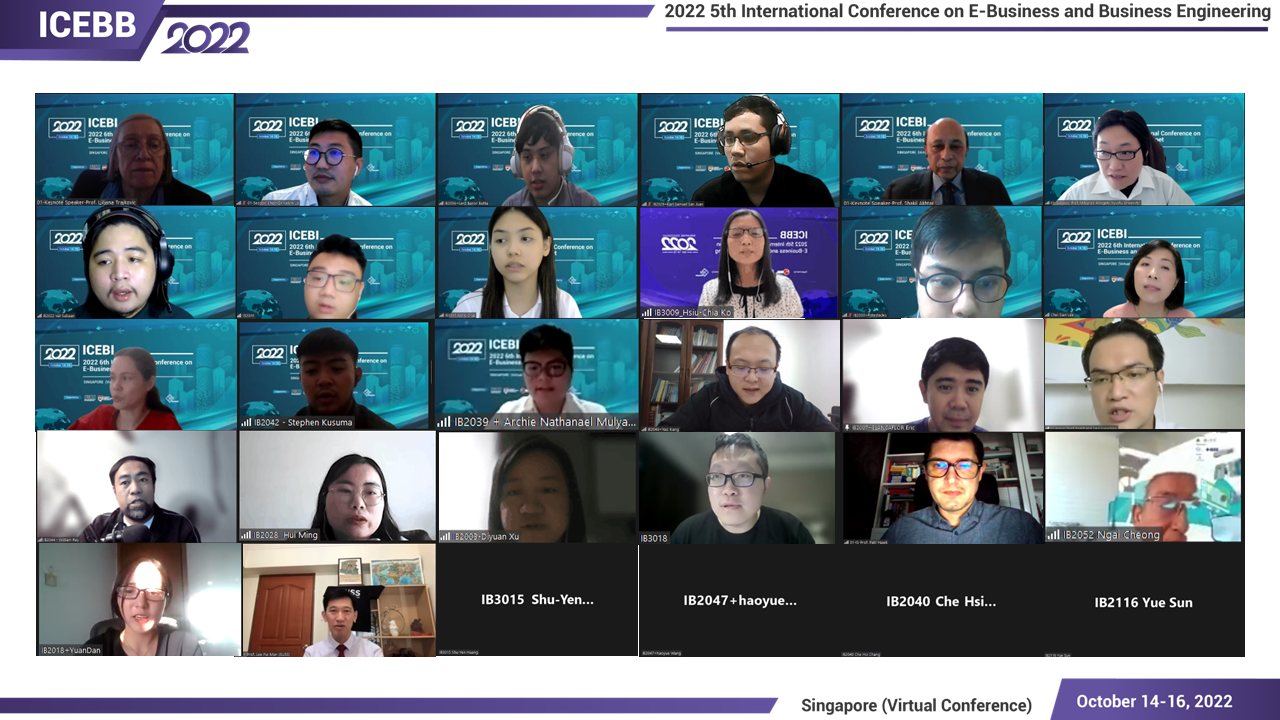 2022 6th International Conference on E-Business and Business Engineering (ICEBB 2022) has been held successfully in full virtual style again on October 14-16, 2022 due to the pervasive restrictions imposed on international travel and the pandemic's uncertainty.
Online check in for all participants was arranged on October 14, 2022. At the beginning of the conference on October 16, 2021, Conference Chair: Prof. Lee Pui Mun, Singapore University of Social Sciences, Singapore delivered the opening remarks to welcome all participants to attend the conference. Then Prof. Ljiljana Trajkovic, Simon Fraser University, Canada delivered the keynote speeches related to Internet of Things Business Solutions, Data Mining and Machine Learning for Analysis of Network Traffic, Impact of Work Automation on Environmental, Social and corporate Governance [ESG]; The Impact of Emerging IT on Privacy as a Key Factor of Future e-Businessetc. At the same time, the invited speakers: Assoc. Prof. Bambang Leo Handoko, Bina Nusantara University, Indonesia and Prof. Petr Hajek, University of Pardubice, Czech Republic also shared their speeches related to latest researches.
Keynote Speakers

Invited Speakers

Meanwhile, there were 3 technical sessions for authors' presentations from October 14-16, 2022. These sessions' topics were related to Industry 4.0 and Information Technology Applications, E-Commerce and Consumer Behavior, Economics and Business Management, Finance Management and Business Management etc. After sessions ends, 1 best student paper award, and several best presenter awards were selected based on papers' content, presentation skill, etc.
Best Presentations List

IB3018
Presenter: Xiang Liu, Sichuan University
IB3009
Presenter: Hsiu-Chia Ko, Chaoyang University of Technology
IB2015
Presenter: Petr Hajek, University of Pardubice, Czech Republic